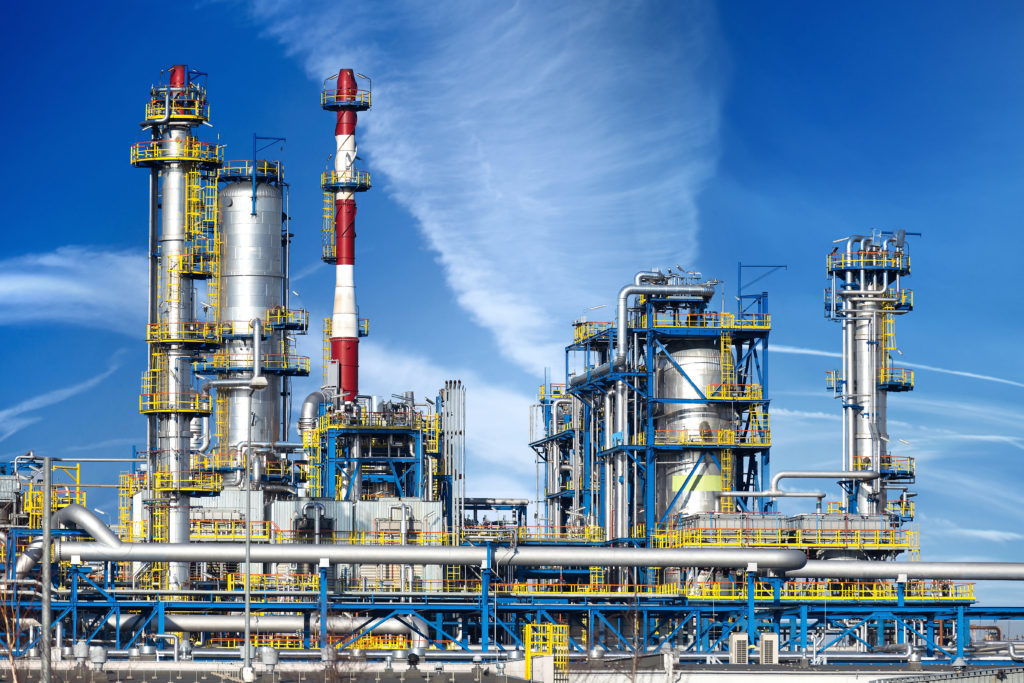 Will Latin America sustain the U.S. refined products growth story?
Marathon Petroleum is permanently closing its two U.S. refineries in Martinez, California and Gallup, New Mexico due to weaker fuels demand amid COVID-19 pandemic. Global demand for refined products fell significantly in 2020 due to the Coronavirus pandemic leaving refiners with surplus fuel inventories and a dramatic drop in refining margins. However, even before the COVID-19 pandemic refining was facing serious headwinds due to rising fuel economy standards, tax credits and regulations for biofuels and electric vehicles. On a regional basis, we expect relatively flat growth in domestic fuel demand across North America and Europe with emerging economies such as Asia and Latin America accounting for majority of growth in the foreseeable future.
With these trends, the world today is headed towards surplus refining capacity and refineries around the world will compete for fuel market share across some of these emerging economies. Although refiners on the high end of the cost curve will shut down amid slowing fuel demand, even well positioned ones are also likely to struggle with finding potential growth markets. The U.S. has been a key fuel exporter to Latin America due to their declines in refinery utilization, higher refining costs, and maintenance issues over the past decade. As a result, the region is highly critical for U.S. refiners to export refined products to Latin America and continue to survive in a challenging market.
Latin America accounted for ~8% of total global refined products demand in 2019 with gasoline, diesel, and fuel oil driving most of the demand. Almost 8.5% of the world's population lives in Latin America and that coupled with economic growth is driving Latin American consumption of transportation fuels. Today, U.S. remains one of the major exporters of refined products to Latin America with petroleum product exports touching ~5.5 million barrels per day in 2019 − a 139% increase in the past decade (Exhibit 1). Mexico, Brazil, Colombia, Chile, Ecuador, and Panama account for more than three-fourths of the total U.S. exports to the region.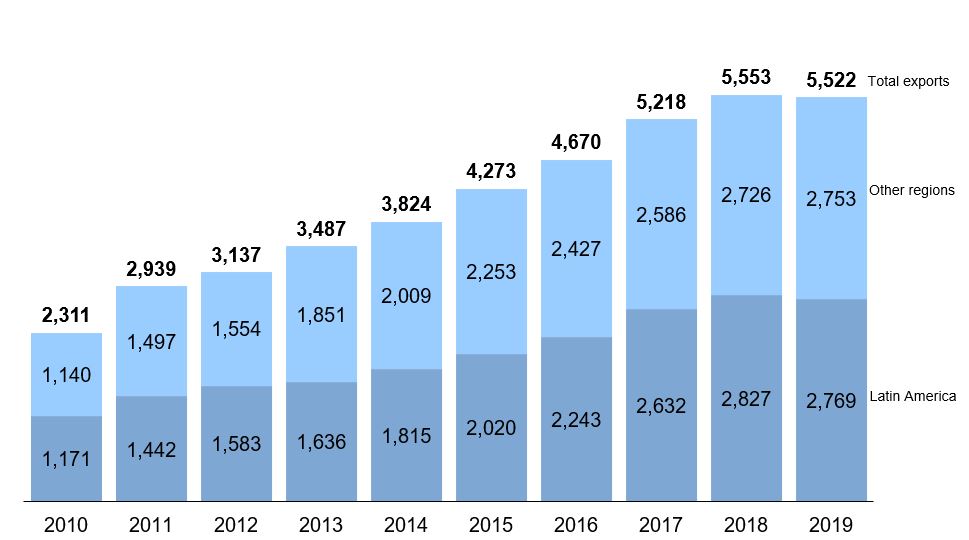 Lower refinery utilization across the region has played an instrumental role in driving imports of refined products over the past decade. Latin American refinery utilization has fallen by almost 30% since 2010 and the region today operates at just a little over 50% of its refining capacity (Exhibit 2). Although several new refining capacity investments are planned, regional economic and political issues have generally stymied their implementation across the region.
However, COVID-19, new capacity, operational improvements, and political dynamics all pose uncertainties that are critical for the medium-term outlook for U.S. fuel exports to Latin America. Competition for fuel export markets will rise as fuel and refined product demand growth falters in the short-term due to COVID-19 and in the medium- and long-term due to energy transition. U.S. refiners are contemplating a number of strategic initiatives to strengthen their position across the fuel export value chain in Latin America in response to these changes.
In light of these dynamics,ADI is launching a new multi-client study – "Market Outlook for U.S. Refined Products Exports to Latin America" − which is focused on a comprehensive assessment and forecast of U.S. fuel and refined product exports to Latin America through 2030. This 12-week multi-client study builds on ADI's extensive research and deep expertise in fuel product exports to Latin America and will be based on in-depth primary and secondary research and fuel supply and demand modeling reflected in its comprehensive table of contents (Exhibit 3).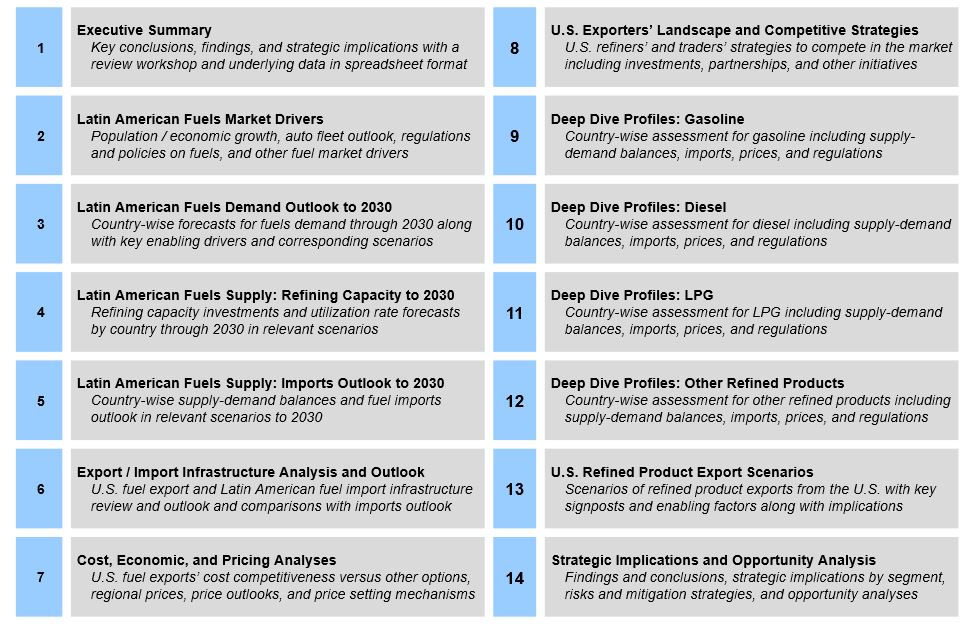 The study will address several strategic questions that arise on the Latin American fuel market's outlook over the next decade. Some of the major themes that will be addressed in this study include forecast for U.S. fuel exports to Latin America through 2030, opportunities, risk, and competitive strategy that U.S. refiners and traders will need to consider post-COVID, and more as shown in Exhibit 4.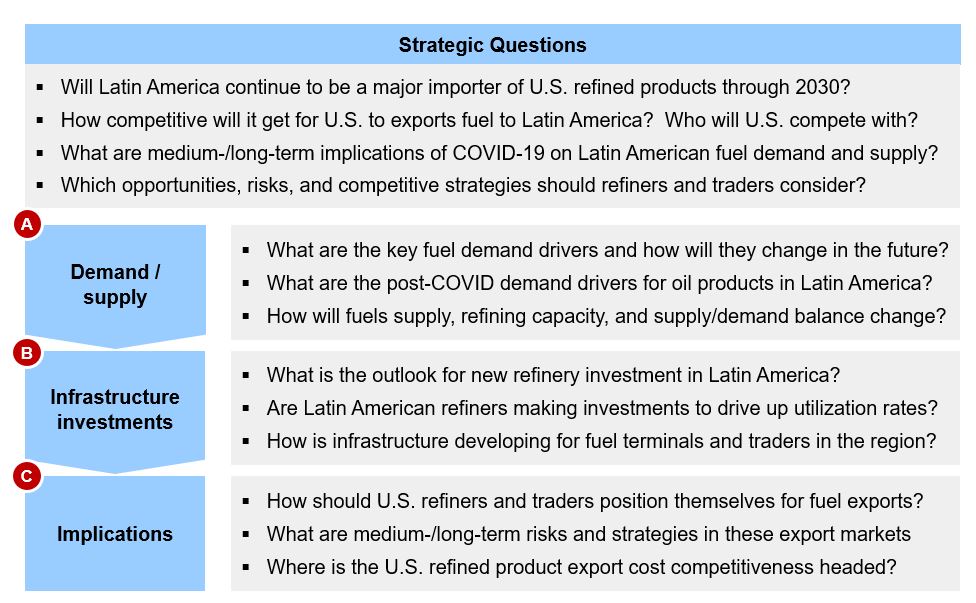 Buyers of this multi-client study will receive a ~150-page report, a ~25-page summary deck, a data package, and a workshop with the ADI research team to address questions. Subscribers can join the kick-off call on August 15 and shape the study agenda. Report will be available November 15. Please download the multi-client study prospectus > > "Market Outlook for U.S. Refined Products Exports to Latin America" – contact us to learn more.

https://adi-analytics.com/2020/08/03/will-latin-america-sustain-the-u-s-refined-products-growth-strategy/